Collarum Humane Snares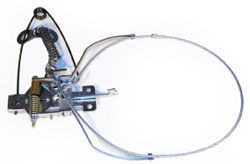 The Collarum® is one of the best and most humane canine capture devices on the market. The Collarum® throws a secure, non-choking cable loop over a canine's head and around the neck making capture faster, easier and more effective than ever before. Triggering requiries a "bite & pull" action, which makes the Collarum® canine specific. It won't be set off by other wildlife.
Unlike other canine capture devices, Collarum® delivers three major advantages.
100% Canine Specific - the trigger uses a "bite and pull" action (similar to the proven M-44 cyanide gun action), not a"push or depress" mechanism employed by conventional traps.
Proven Humane Method - From day one, the Collarum® was designed to meet U.S. and International Humane Standards. Through testing in conjuction with the USDA's National Wildlife Research Center, improvements were made, including the Relaxalock cable that ensures even more "dog-friendly" captures.
Ideal for All Areas - Light, compact and easy to hide, the Collarum® poses little risk to humans, livestock and pets - a particular advantage for Professionals in high traffic and high visibility areas. Over the past 10 years, the Collarum® has been proven in urban backyards and landfills, coyote-plagued pastures and remote rural settings worldwide.