Squeeze Cages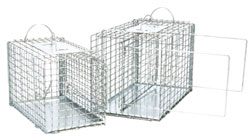 Squeeze Cages are perfect for vaccinating and examining animals. Simply slide the squeeze panel forward until the animal is firmly held between the panel and the side of the cage. The galvanized metal bottom can be removed for easy cleaning, the handles fold flat and lock into place for easy storage, and a sliding rear door is provided for the easy release of an animal. Our squeeze cages match up nicely to our traps with easy release doors.

-Photo Contest - Win a $100 Gift Certificate
Send a picture to us at tomahawkfans@gmail.com for a chance to win a $100.00 Gift Certificate! The winner will be chosen on June 20th 2013. Visit our facebook event page for all the details.