Excluders with One Way Door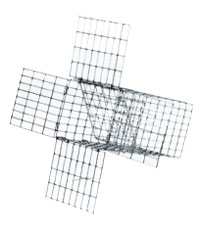 Tomahawk excluders are designed to let animals remove themselves from unwanted areas. Excluders have mounting wings which allow them to be attached directly over the animals' entry / exit hole. The one way door lets animals exit, but prevents them from returning.
Features:
One way door for easy exit.
Mounting wings to allow flush mounting directly over den opening.
Prevents animals from entering after they have exited.

-Photo Contest - Win a $100 Gift Certificate
Send a picture to us at tomahawkfans@gmail.com for a chance to win a $100.00 Gift Certificate! The winner will be chosen on June 20th 2013. Visit our facebook event page for all the details.