Muskrat Colony Traps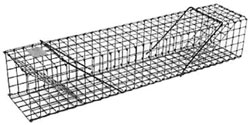 These are great and inexpensive multiple catch muskrat traps. They are constructed of 14 gauge galvanized wire mesh to protect against corrosion. They have 1" wire mesh frames and two gravity operated trap doors.

-Photo Contest - Win a $100 Gift Certificate
Submit a photo for a chance to win a $100.00 Gift Certificate! Visit our facebook event page for all the details.