Flush Mount Simple Traps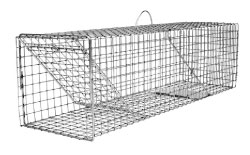 These traps are simple to operate, simple to set, and offered at a great price.
They are flush mounting traps which means the trap door does not protrude beyond the trap frame. This gives you the option to position the trap flush against an animal's den opening, forcing them to enter the trap when they exit.
Simple Traps utilize the same principles as our other traps in that the trap door should be open when the trap is armed. The animal will trigger the trap by stepping on the trip pan and the spring loaded trap door will fall into place.
Unlike our other traps, simple traps do not have locking trap doors. The trap door is designed to allow multiple catches. Trapped animals act as an attractant for other animals to enter. They are able to easily push through the one-way trap door and become trapped themselves.
Be careful not to leave trapped animals unattended for too long as these traps do not have locking trap doors.

-Photo Contest - Win a $100 Gift Certificate