Plastic Traps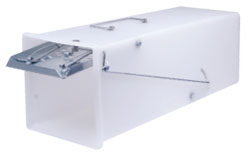 These traps are made from durable polyethylene and formed into one solid piece. The solid frame construction protects animals from the environment and handlers from animals. It also prevents trapped animals from reaching outside the trap and damaging the surrounding area. And it prevents animals from reaching into the trap and steeling bait.
These traps are an excellent choice when animals need to be trapped in populated areas because captured animals cannot be seen from the outside. And people cannot reach into the trap and disturb the animal.
Our plastic traps feature very strong spring loaded doors that lock into place when the trap is set. The doors are made from 16 gauge Nickel Plated sheet steel, with 90 degree strength bends on all four outside edges.

Model 924 is an excellent choice for skunk because it is completely enclosed.

-Photo Contest - Win a $100 Gift Certificate
Send a picture to us at tomahawkfans@gmail.com for a chance to win a $100.00 Gift Certificate! The winner will be chosen on June 20th 2013. Visit our facebook event page for all the details.