Trap Smart - Remote Monitoring System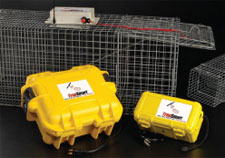 TrapSmart is an ideal tool for ADC operators because it saves you time and money. No more driving back and forth to check empty traps! TrapSmart will let you know when your trap needs maintaining. With high gas prices and larger territories you can't afford NOT to use trap smart for all your long distance jobs.
TrapSmart enables remote monitoring of multiple traps using advanced GPS technology. Trap sensors can be attached to any Tomahawk trap. The sensors send email or text messages to the trapper's cell phone when the trap door closes.

-Photo Contest - Win a $100 Gift Certificate