TNR Trap Dividers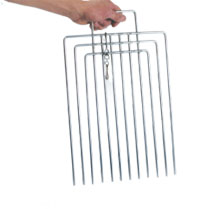 Dividers allow you to confine animals within a trap by simply sliding it down from the top or through the side of the trap. They make great TNR tools when animals are left to recover in the trap for an extended period of time. Use the divider to isolate the animal, then open the door and replace food and water. Close the door and remove the divider.
Our TNR divider is made from heavy duty 1/4" steel rods for extra strength and durability. They come with an "easy clip" latch which can be attached to the side or top of the trap to prevent it from slipping out.

-Photo Contest - Win a $100 Gift Certificate
Submit a photo for a chance to win a $100.00 Gift Certificate! Visit our facebook event page for all the details.