Snake Handling Equipment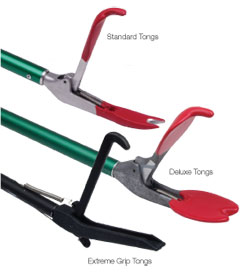 Tongs are humane and effective reptile handling tools that can be used as an extension to your arm for just about anything. Our tongs are state of the art, light weight, strong, and durable tools designed to give maximum holding pressure with minimal risk to you and the reptile. The handle grip commands a steel cable, which activates the jaws. This provides the handler with a precise feel of pressure being applied to the reptile.
Tomahawk offers cast aluminum tongs in three different categories and a variety of lengths. We also custom build snake tongs to any desired length. Please call for quotes on custom lengths.
All of our cast aluminum tongs feature:
Stainless steel aircraft quality cable.
Concealed stainless steel jaw springs.
Very strong cast aluminum handles, levers, and tong jaws.
Pistol grip handle designed for one hand operation.
Anodized tube shafts to withstand the elements.

-Photo Contest - Win a $100 Gift Certificate